About Us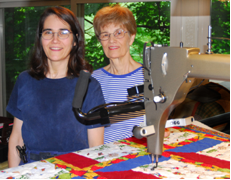 We are both professional machine quilters working together since 2006. We are a mother/daughter quilting team happily providing service for close to 15 years, to almost 600 customers, both nationally and world wide. We provide machine quilting and finishing services, and specialize in creative design selection for quilting your pieced, appliquéd, or decorator fabric project. Our longarm machine is a Gammill Supreme augmented with a Statler Stitcher computer system.

I, (Louise - mother of this team) began sewing about age 7 when my mother, Cami's grandma, taught me to use the old Singer treadle machine. We fashioned doll clothes etc. and at age 9, I constructed my first dress. I have always loved sewing whether it was making clothes, doing home decorating projects, or volunteering to make costumes for the local Passion play.
Sewing for me, (Cami - daughter of this team) began when I was about 7 years old and was a natural thing to do because mom loved sewing. My love of quilting began in the 70's by taking a high school quilting class and working for the home economics teacher. I made Mom a log cabin quilt when I was about 15 years old. A few years later when it was faded and tattered from use, Mom, made her first quilt, another log cabin.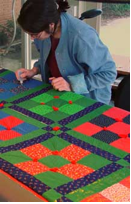 Majoring in home economics during college was the natural choice for me and included more quilting and sewing classes as well as designing and sewing my wedding dress. I completed teacher certification, and during student teaching had my students make a tied quilt which I still have and recently quilted. Quilting a tied quilt is something I have wanted to experiment with since I have had multiple requests for this service, so I tried it. ...IT WORKED! (Now we have quilted several others and offer this as a service.)

During the seven years before my children were born, I quilted, taught quilting classes, and took an active roll in the local quilt guild bringing something for Show and Tell at most meetings. I love the energy that comes from sharing with other quilters, the challenge projects and friendship quilting projects. I have experience with hand quilting, machine quilting on a home sewing machine and now on the long-arm. I have become a believer in the idea that "Quilting Makes the Quilt!" With the birth of children, quilting went on the shelf temporarily while I became a home school mom, chief taxi driver, "Suzuki mom", co-leader of a Scout-type group, wife and domestic engineer. (Now my quilting earns money to pay college tuition with the goal of getting two kids out of college debt-free!)


When mother (Dr. Louise Moon, EdD) retired as a reading specialist and teacher educator she returned to sewing, taking up machine embroidery. She decided to make an embroidered quilt for me. My previous quilting experience inspired color changes to the designs, etc. and that got me involved in embroidery also. We actually completed 12 blocks and a large center medallion which mom designed from parts of the other blocks. Mom combined these into a GORGEOUS QUILT TOP for me. When I asked, "How are you going to quilt that?" it led to a major shopping project. The end result? Our Gammill Longarm machine came to live at mom's house inspiring us to start All About Quilting and Design as our business.

Once I (Cami) knew that the Gammill machine was on order, I began finishing all the UFO's that had been shelved for about 15 years. Those completed quilt tops, some garage sale finds, and Quilts of Valor gave us great practice and insured that our longarm quilting addiction is well established. We love the challenge of finding the right combination of designs and thread colors to showcase the fabrics so that the quilting brings complementary elements of beauty and interest—that extra dimension to the quilt. The Gammill and Statler Stitcher allow us to produce what we've dreamed about so that the quilting really does "Make the Quilt!," Several times customers have brought a quilt, saying how much they dislike it but after quilting think it looks SO much better. Quilting just adds that extra dimension... literally!

NEWS UPDATE:
2020 - CS7 was released and, once again, brings new features making it easier to achieve the creative quilting you desire. Call or email for a free consultation and to schedule your next quilt.

Starting January 2021 - We are busier than ever as many quilters have been piecing during Pandemic Quarantines. We encourage you to schedule your project when you start piecing it. If you need more time there is usually no problem moving your time slot later on the schedule. Please just let me know a couple of weeks in advance if possible.